Good times throughout the year
From festivals to fishing tournaments, Rusk County knows how to have a good time. Browse this calendar to see what's happening.
NOTE: Due to the uncertainty surrounding the current COVID-19 (coronavirus) outbreak, many of our upcoming events have been postponed or canceled. If and when these events are rescheduled, we will be here to provide you with the most up-to-date information possible. For information about a specific event, please contact the event organizer(s). Thank you!


Upcoming Events
Events Search and Views Navigation
March 2021
The Weyerhaeuser Snowmobile Club Landowners Appreciation Dinner and Fundraiser will be held at Burdy's Bar and Grill in downtown Weyerhaeuser from 11am-3pm. For more info contact Bob Burdorf at 715-353-2873 (Weyerhaeuser).
Find out more »
July 2021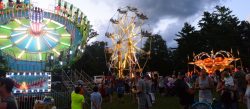 Check back for more updates on our 2021 event! Although some things have been altered for the Mardi Gras this year, sporting tournaments, live music, and food vendors are a few of the events that will still take place. This year, the Mardi Gras will be held in downtown Ladysmith. Come shop the annual arts & crafts fair on Miner Avenue from 9am-2pm and take a look at the many interesting products the vendors are selling- you won't be disappointed!…
Find out more »

This annual arts & crafts fair takes place during the Ladysmith Mardi Gras. Come and stroll down Miner Avenue and take a look at the many interesting products the vendors are selling- you won't be disappointed! Not far away is our farmers' market with their fresh, delicious produce. Live music can be heard all throughout. Alongside all of this, there is a car show, an outdoor beer garden, and fireworks later in the day for all to see! Check back…
Find out more »
+ Export Events