Snow and Trail Condition Update - January 17, 2018
A few more inches of snow fell earlier this week, and has made it possible to open more Snowmobile Trails in the County.  Groomers have been out and are reporting  mostly fair to very good conditions.  Cross-country ski trails are also groomed and in good to excellent shape.
Snowmobile Trails  -
Tomorrow (January 18) at 8am, more than 3/4 of the County will be open for snowmobiling.  The Southwest, Northwest, and Northeast Quadrants will all be open -with some exceptions.  This means that most trails West of Highway 27 are open, and trails East of Highway 27 and North of Highway 8 are open. See the quadrant map below for reference.  Exceptions to these quadrants opening - Corridor Trail 31 from the Village of Bruce to Dejung Rd. is closed.  There is also a bypass trail on Trail 99 about 5 miles north of Flambeau Lodge - to avoid the work of some beavers - look for caution signs and the bypass trail in this area.  Corridor Trail 25N from Hawkins to Sawyer County, and Trail 116/Corridor Trail 16 from Ingram to Hawkins and into Price County, also remain open.
This weekends Snowmobile Event by the Flambeau Area Trailtenders at Flater's Resort will be accessible by snowmobile. http://ruskcountywi.com/event/flambeau-area-trail-tenders-snowmobile-club-brat-chili-feed/
Look for updates as conditions change, and we receive more updates.  We expect an update on the Southeast Quadrant before the weekend.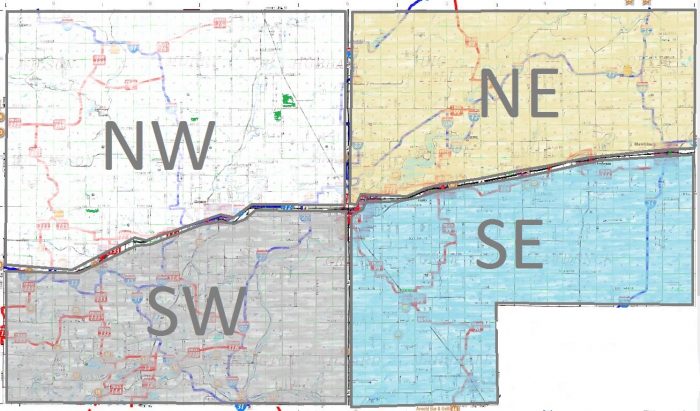 Cross-Country Ski - Fat Tire Bike - Snowshoe Trails
For more detailed cross-country trail updates visit their website and Facebook pages.
Blue Hills Trails
www.bluehillstrail.com
https://www.facebook.com/pages/Blue-Hills-Trail/200414469916
Ladysmith Area Trails
https://www.facebook.com/LadysmithAreaTrailAssociation/
Don't forget the Blue Hills Trails and Flambeau Mine Trails (Ladysmith) have snowshoe paths, and the Sisters Farm Trails by Ladysmith are grooming for Fat Tire Biking
Christie Mountain downhill ski area is also open and reporting good conditions.
www.christiemountain.com Stay in the loop!
Stay up to date on the latest Rusk County events, contests and deals.
+