Trail Conditions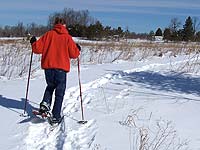 Snowshoeing on Rusk County Trails
Keep track of current trail conditions. Below, you'll find up-to-date condition reports for Rusk County trails.
ATV Trail Conditions
Welcome to the trail report for Rusk County ATV trails. We will post reports as conditions change. Stay tuned!
Snowmobile Trail Update - March 11, 2014
Trails continue to be open, however warm temperatures have softened the trails. There is still an adequate base so good sledding should be had for the forseeable future. Road crossings and in-town trails are bare, but good conditions can be found in wooded areas. Due to the warm weather swamps are getting soft, and some streams may have running water. Never consider lakes, rivers, stream, or swamps safe. Check back for updates.
Cross Country Ski Trail Update - February 6, 2014
Do you really need to check the conditions ? All trail systems are in excellent condition, and are being groomed frequently. The lights are on at the Ladysmith High School until 10:00 pm. In addition to x-country skiing, Sister Farm Trails also have trail for snowshoeing and fat tire biking, and the Blue Hills Trail also has a snowshoe trail.
Other Report Sites:
Snowfall Report
Cross-country Ski Trail Report
Downhill Ski Conditions
1.800.535.RUSK
Powered by