Trail Conditions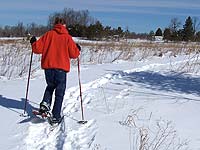 Snowshoeing on Rusk County Trails
Keep track of current trail conditions. Below, you'll find up-to-date condition reports for Rusk County trails.
ATV Trail Conditions
Welcome to the trail report for Rusk County ATV trails. We will post reports as conditions change. Stay tuned!
Snowmobile Trail Update
Trails closed as of midnight on April 1, 2014. Thanks for a great season, see you in December.
Cross Country Ski Trail Update
Cross Country Ski Trails are no longer being groomed.
Other Report Sites:
Snowfall Report
Cross-country Ski Trail Report
Downhill Ski Conditions
1.800.535.RUSK
Powered by