Trail Conditions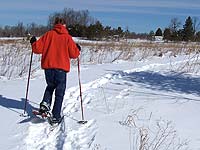 Snowshoeing on Rusk County Trails
Keep track of current trail conditions. Below, you'll find up-to-date condition reports for Rusk County trails.
ATV Trail Conditions
Welcome to the trail report for Rusk County ATV trails. We will post reports as conditions change. Stay tuned!
Snowmobile Trail Update - CAUTION URGED- February 21, 2014
Trails are open and in very good condition throughout the County, with excellent conditions in most areas. HOWEVER -EXTREME CAUTION IS BEING URGED, last night's snowfall was has caused low hanging branches and fallen limbs. Trail groomers will be out working and cleaning up trails, but it will likely be next week before all trails are addressed. After this week's foot of new snow, the trails will continue to be in great shape with a thick base. Be aware there are some trail reroutes because of standing corn in many fields where trails are supposed to go. You may find trails that have been rerouted through ditches or other property to get around these fields. In limited spots trails will be closed - these will be gated or signed. Never consider lakes, rivers, stream, or swamps safe. It's been cold but with all of snow there is considerable slush and standing water between the ice and snow. The trails are great, and the scenery is breathtaking, but use caution and be safe.
Cross Country Ski Trail Update - February 6, 2014
Do you really need to check the conditions ? All trail systems are in excellent condition, and are being groomed frequently. The lights are on at the Ladysmith High School until 10:00 pm. In addition to x-country skiing, Sister Farm Trails also have trail for snowshoeing and fat tire biking, and the Blue Hills Trail also has a snowshoe trail.
Other Report Sites:
Snowfall Report
Cross-country Ski Trail Report
Downhill Ski Conditions
1.800.535.RUSK
Powered by