Trail Conditions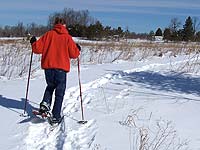 Snowshoeing on Rusk County Trails
Keep track of current trail conditions. Below, you'll find up-to-date condition reports for Rusk County trails.
ATV Trail Conditions
Welcome to the trail report for Rusk County ATV trails. We will post reports as conditions change. Stay tuned!
Snowmobile Trail Update - December 10, 2013
We are certainly ahead of most years.... Most of the areas of the County have 8" of snow cover. Check back for updates on trail opening.
Cross Country Ski Trails Update - December 10, 2013

All trail systems are open and have received some grooming.
About 14km of the Blue Hills Trail system has been groomed for skating.  Additional loops will be opened as they can be cleared (initial ice storm caused down trees and branches.  Grooming is ongoing and good conditions are being reported.  
www.bluehillstrail.com
The Sisters Farm and Ladysmith Lighted Loop trails have been rolled and packed and have fair skiing but with some uneven spots.  Full grooming and track setting will occur when the snow becomes more manageable. The lights are on at the high school from dusk to 10pm.
Other Report Sites:
Snowfall Report
Cross-country Ski Trail Report
Downhill Ski Conditions
1.800.535.RUSK
Powered by