Trail Conditions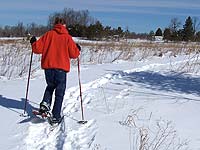 Snowshoeing on Rusk County Trails
Keep track of current trail conditions. Below, you'll find up-to-date condition reports for Rusk County trails.
ATV Trail Conditions
Welcome to the trail report for Rusk County ATV trails. We will post reports as conditions change. Stay tuned!
Snowmobile Trail Update - March 29, 2013
At this time snowmobile trails are in poor condition but will stay open through the weekend, and will then close for the season.  Trails have deteriorated significantly with the warmer conditions, and trails in town, along adjacent to roadways are showing bare spots.  Trails out in the outlying areas like the Blue Hills and north of Hawkins are in a little better shape.  Use caution, with the poor conditions.  Never assume any ice is safe to ride. Lakes, stream and river crossings, and swamps should always be considered unsafe. Please respect the landowners who allow us access and use of their property. Stay on the marked trail.
X-Country Ski Trail Update - March 29, 2013

Still plenty of snow depth on the trails to provide coverage for quite awhile, but trail conditions have deteriorated with recent warm weather.  Due to the deteriorating conditions and soft trails, grooming activities have ended for the year.
Rusk County offers 3 great cross country ski trails.   The Blue Hiills Trails, 35km of wide trails cut through the woods, Trails are maintained by the Blue Hills Trail Association and conditions permitted, are groomed for freestyle and classic skiing.  www.bluehillstrail.com
The Ladysmith Area Trail Association maintains the 12 km Sisters Farm Trail System, located a few miles southwest of Ladysmith, as well as a 1 mile lighted loop trail at the Ladysmith High School.  Both trails, conditions permitting are groomed for classic and freestyle skiing.
Other Report Sites:
Snowfall Report
Cross-country Ski Trail Report
Downhill Ski Conditions
1.800.535.RUSK
Powered by