Hunting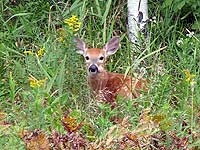 White-tailed deer.
Rusk County's wilderness areas offer excellent hunting opportunities for a number of species.
Rusk County is well-known for its excellent white-tailed deer hunting. The county boasts a good population of deer. Both gun and bow hunting are popular in Rusk County.
Black bear hunters are attracted to Rusk County's good population of black bears and the large tracts of undeveloped lands that allow for successful bear hunting.
Some of the finest ruffed grouse hunting in northern Wisconsin can be found in Rusk County. The mix of old and new hardwoods makes for ideal habitat. Hunters come from around the country to hunt grouse in Rusk County.
Wild turkey is one of Rusk County's newest hunting opportunities. Over the past decade, the population of wild turkey has steadily increased. Today, hunters will find outstanding turkey hunting in Rusk County.
Some of the most popular public hunting areas in Rusk County include:
Rusk County Forest Lands - Contains nearly 90,000 acres of land open to hunting
Flambeau River State Forest – More than 90,000 acres of hunting lands. Learn more.
State Wildlife Areas – Four different state wildlife areas offer hunting. Learn more.
Get current Wisconsin hunting seasons and regulations.
Hunting Guides & Hunts
J & B's Hunt Club
W12058 Highway 8, Bruce, WI 54819
715.828.7220 or 715.415.7242 - Website

Pheasant hunts, guides and dogs available. Also, offering whitetail deer hunts in 2011.
---
Joe Flater - Flater's Resort
N270 County Rd. E.
(715) 595-4771 - Website

"Musky" Joe Flater, fishing trips on the Chippewa and Flambeau Rivers, also deer and bear hunts.
---
Oakridge Guide Service
14155 Tyman Rd.
715.382.4920 - Website

Offer a variety of guided hunts, but specializing in Bear Hunts.
---
Sporting Goods & Outfitters
Chippewa River Custom Rods
N615 Chippewa River Ave., Holcombe, WI 54745
(715) 312-0509 - Website

Custom fishing rods manufacturer, guide service also available.
---
Flambeau River Outfitters
304 Miner Ave, Ladysmith, WI 54848
(715) 532-0485

Sporting goods store featuring archery range, archery supplies, fishing tackle, hunting and fishing accessories, and bait.
---
Ladysmith Ace Home Center & Sporting Goods
503 Lake Ave., Ladysmith, WI 54848
(715) 532-3351

Homecenter along with big sporting goods area. Full selection of hunting and fishing accessories, licenses, baits, guns and ammo, fishing and tackle, clothing, etc.
---
1.800.535.RUSK
Powered by