Hiking & Birdwatching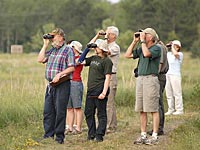 Birdwatching
Hikers, birdwatchers and wildlife enthusiasts will find ample room to roam in Rusk County. Huge stretches of undeveloped forest, combined with pristine rivers and abundant wildlife, make Rusk County one of the best places in Wisconsin to enjoy a true wilderness experience. Bring your binoculars, pack your camera and head out onto these top Rusk County hiking trails and nature areas:
The Blue Hills Trail System
This 23-mile trail system provides excellent hiking and wildlife viewing opportunities. The West side of the system is densely wooded. The eastern half is more open and provides excellent views of the landscape. Highlights of this unique area include felsenmeers – unusual jagged rock formations formed by the glaciers. The trailhead for the Blue Hills Trail System is on the east side of Fire Lane Road, just two and a half miles north of Hwy O. Learn more.
Flambeau Reclaimed Mine Site Trails
Five miles of hiking and biking trails run through this former mine site. You'll find excellent areas for bird watching and appreciating nature. The trails are relatively flat. Located one mile south of Ladysmith on Highway 27. Learn more about the trails and the Flambeau Reclaimed Mine Site.

Ice Age Trail
The Ice Age Trail follows the southern boundary of the most recent glacier to invade Wisconsin about 12,000 years ago. The portions of the Ice Age Trail that run through Rusk County feature a number of truly unique rock formations, including felsenmeers, consisting of expansive fields of jagged rocks. The trailhead for the Ice Age Trail in Rusk County Forest is located near Murphy Flowage Recreational Area in the northwestern portion of Rusk County. Learn more.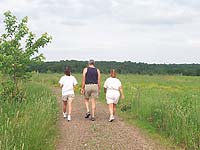 Hike one of our many trails
Riverview Trail
This trail in Ladysmith runs along the Flambeau River and is part of the Ladysmith parks system. It's a great location for a sunrise or sunset birdwatching excursion. The trail is located between Highway 27 and County Road G.
Wetland Walkway
Hike this small but scenic hiking trail built by the Environmental Challenge in 2003. The walkway is located between Ladysmith's O.J. Falge Park and the Rusk County Visitor's Center.
Sister's Farm Trail System
The Sisters' Farm Trail System offers some of the best mountain biking and cross-country skiing in the area. But the trail is also an outstanding destination for hiking and birdwatching, taking visitors through a variety of bird habitats and along the Flambeau River. Waterfowl, bald eagles and wading birds are frequent visitors to the area. The trail is located southwest of Ladysmith. See map.
Hunter Walking Trails
Rusk County Forest lands are home to a number of trails designed for game bird hunting. These trails are excellent for birdwatching and nature hikes. Maps are available at the Visitors Center and at the County Forestry Office.
1.800.535.RUSK
Powered by