Biking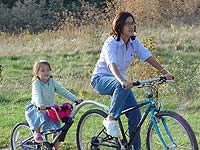 Enjoy a family bike ride.
Enjoy some of northwest Wisconsin's best bicycling in Rusk County. Wilderness trail systems provide mountain bikers with more than 100 miles of riding, including trail sections with challenging single-track riding. Road biking is available on Rusk County's scenic roadways – sparsely populated and highly rural, Rusk County offers some of the most relaxing road rides you'll find anywhere. It's the perfect place to pedal.
Sister's Farm Mountain Biking Trail System
This scenic trail is located on the inside bend of the Flambeau River, southwest of Ladysmith. Both the eastern and western trail segments provide outstanding views of the river. Choose from a variety of trail loops, totaling 12 kilometers, including both single-track and multi-track biking. A trailhead with parking is located off Sisters' Farm Road. See trail map.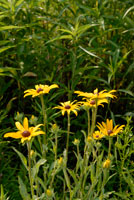 The Blue Hills Trail System
The Blue Hills of northwestern Rusk County is an excellent mountain biking destination. With more than 10 miles of biking and logging roads, the West side of the Blue Hills Trail System is open and suitable for mountain biking over a rolling terrain. Look forward to picturesque ponds and great views of the surrounding landscape. The trailhead for the Blue Hills Trail System is on the east side of Fire Lane Road, just two and a half miles north of Hwy O. See trail map.
Flambeau Mine Site Trails
This relatively level trail is located on the 32-acre Reclaimed Flambeau Mine site, just south of Ladysmith along Highway 27. Trails overlook the Flambeau River and offer views of meadows, wetlands and forests. In addition to biking, the trails are used by hikers and horseback riders. The Flambeau Mine Site Trail is ideal for beginning riders and bicyclists riding with young children. See trail map.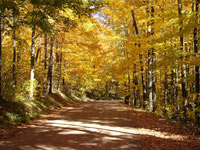 Riverview Trail
For a short scenic bike ride just minutes from Ladysmith, try the Riverview Trail. Running along the south bank of the Flambeau River, this trail connects County G and State Highway 27.
Ladysmith-Hawkins High School Trail
This popular local trail features 2km of groomed trails with a 1.4km lighted loop for those evening bike rides. See trail map.
Flambeau River State Forest
The Flambeau River State Forest is one of Wisconsin's great wilderness gems. The forest protects much of the Flambeau River, one of the most popular paddling destinations in the Midwest. Mountain bikers will find 14 miles of excellent mountain biking trails running through the forest. Sections of the trail are quite challenging. The mountain biking trails of the Flambeaur River State Forest are located north of Hawkins on County Road M. Find maps of the forest. (pdf)
County Forest Logging Roads
Rusk County offers over 88,000 acres of public lands full of logging trails and paths. An adventurous mountain biker could spend weeks exploring this network of rugged roadways through the forest. ATVs are allowed to use sections of the forest roads during certain periods of the year, so use caution when riding. Maps are available at the Visitors Center and at the County Forestry Office. See locations of Rusk County public land.
1.800.535.RUSK
Powered by