Campgrounds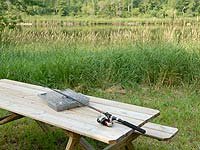 Do a little fishing at the campgrounds.
Campers love Rusk County. The area's many quality campgrounds offer campers an array of choices, no matter what their style of camping.
Audie & Perch Lake Campgrounds/Parks
County Forest Firelane Rd. Bruce, WI
(715) 532-2113

Located in the heart of the Blue Hills. 31 sites total-- Audie has electric hook-ups, Perch Lake more primitive camping. Day use areas with play area and barbecues. Boat launches for Audie and Perch Lake. Water and Pit toilets (New in 2004), -Rusk Co. F
---
Eagle View RV Camp
W16270 CTH D/F
715.924.3515 or 715.642.1391 - jmhh@centurytel.net - Website

22 site RV camp with full hook-ups (water/sewer/electric). Available for seasonal or daily reservations. Amenities include restrooms, hot showers, coin laundry, and handicap accessible. Property has hiking trails, and a number of lakes with boat landings are just down the road. Visit website to see a full list of recreational activities that area available.
---
East River Run Escape Campground
N1985 East River Run
715.532.6429 or 403.6429 - Website
On the Flambeau River 12 miles south of Ladysmith. Rent by the Day, Weekend, Weekly or Seasonal Cabin and Camper rentals. Water, Electric, Sewer Available. In close proximity to public hunting, public water access, bars and restaurants.
---
Flambeau Ridge Campground
W10765 County D, Holcombe, WI
715.828.5520

New campground located just below the convergence of the Chippewa and Flambeau Rivers, and connected to the Lake Holcombe Flowage. RV's sites.
---
Flambeau River Lodge / Campground
N7870 Flambeau Rd.
(715) 532-5392
On the Big Falls portion of the Flambeau River. Popular lodge known for canoeing/shuttles. Permanent and daily sites available. Electric, flush toilets, showers, bar/food, canoe rentals.
---
Haley Park
Sheldon, S. on Hwy. 27 to County Hwy D to County Hwy VV
(715) 452-5730

Pavillion, campsites, swimming, electric, dump station
---
Hawkins Community Park
Hwy. 8
(715) 585-6322
Flush toilets, campsites, dump stations, water, pavillion
---
Jimmy's World Campground & Bar
N1745 Rangeline Rd., Conrath, WI
715.532.0600

Located Southeast of Ladysmith, new campground with bar. Tent and RV sites.
---
Josie Creek County Park
NE of Ladysmith off CTH X
(715) 532-2113
On Lake Flambeau (Dairyland Flowage) Boat launch onto lake. Electric, pit toilets, shooting range, archery trail, excellent beach and play area. One of the nicest County campgrounds around.-Rusk Co. Forestry Dept.
---
Lured Inn Restaurant and Campground
1211 N. Potato Lake Rd.
(715) 353-2725 - Website

On the north end of Potato Lake, we are the only place on the lake with a full menu including Specials like Wednesday night Wings, Thursday night Pizza & Breadsticks, Friday night Fish Fry, Saturday Night BBQ Ribs, and Sunday Loaded Baked Potatoes. Not to mention the pizza, sandwiches and appetizers that are available all the time.
There are also permanent and daily campsites with water and electric, a boat landing, fish cleaning house.
---
MD's Flambeau Resort & Campground
W10355 CTH D - Holcombe Area
715.595.4738 - Website

MD's resort/bar with cabins and camping (daily or seasonal) sits on the banks of the Chippewa just down river from its convergence with the Flambeau. Provides boat access to the river and into the Holcombe Flowage.
---
Murphy Flowage Campground and Park
On County F
(715) 532-2113

Newest of the County facilities. This campground and day use area overlooks the rejuvenated Murphy Flowage. Campground has 15 sites with electric, water, toilets. Boat launch at Campground. Day use area includes play area and log cabin shelter.
---
Nob Hill Campground
N855 Hwy. 40
(715) 868-2469
---
Northshore Bar & Campground
N1033 Hwy. 40
(715) 868-2504
On Island Lake. Electric, water/durnp station, gas/boat, swimming, bar/food.
---
Rose's Bay Resort/Campground
N1107 Rose's Resort Rd.
(715) 353-2527
On Potato Lake. Permanent and daily sites available-- recently expanded. Bar remodeled. Cabins, boats, pontoon also available.
---
Silent Waters Campgrounds & RV Park
28504 303rd. Ave.
715.452.5214 or 715.314.0433 - info@silentwaterscampgrounds.com - Website
A refreshing change of pace in Lake Holcombe. 90 acre campground with complete RV sites including metered electric, water, and septic hookups.
---
Thornapple River Campground
N6599 Hwy. 27 N.
(715) 532-7034

Cabin-fully furnished, 2 bedrooms. House trailer w/double bed and single bed also fully furnished. Open May-October.
---
Tracey's Resort & Campgrounds
W6191 Mae West Rd. (Tony)
(715) 532-3729
RV & tent camping, handicap accessible, central showers, washrooms, dump station: On the Lake Flambeau Dairyland Flowage, guide service and taxidermy also available.
---
Ward's Flambeau Campground
10355 W. CTH D
(715) 595-4738
On the north end of Lake Holcombe. Cottages, Camping, boats, bar, dump station, showers.
---
Westcove Lanes Campground
1011 Edgewood Ave.
(715) 532-7812
Electric, sewer hookup, flush toilets, showers, dump station
---
Winterhaven Resort & Campgrounds
N1460 Pulaski Lake Rd.
(715) 403-7681 - Website
Campsites located between beautiful Pulaski and Boot Lakes. Seasonal and daily sites available. 4 lake-lots also available with year-round sewer/water facilities. Enjoy white-sand beach, crystal-clear water and bar/restaurant.
---