Rusk County Three-day Sample Itinerary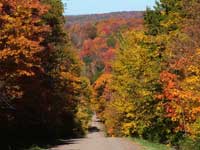 Beautiful Fall Tour
A Fall Getaway Guaranteed to Unwind Your Mind
This fall, Unwind Your Mind in Wisconsin's Rusk County. Enjoy crisp fall days along quiet rural roadways, four paddling rivers and several excellent recreational trails. And fall color? The blaze of fall color is unbelievable in Rusk County.
Best of all, Rusk County is one of Wisconsin's most affordable vacation options. A three-day, two-night getaway should cost a couple between $200 and $400.
Here's what a relaxing three-day Rusk County fall getaway might look like.
Day 1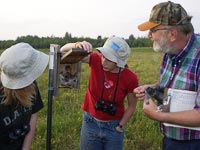 3pm - Arrive and Check Into Your Lodging. Choose from more than two dozen Rusk County lodging establishments. From resorts and lodges to motels and campgrounds, Rusk County has overnight options to fit your style and budget. For a complete list of Rusk County lodging choices, see Hotels & Resorts, Campgrounds, Bed & Breakfasts, or Inns & Cabins.
4pm – Walk Through the Flambeau River Former Mine Site. Relax after your long drive with a walk along five miles of trails running through this reclaimed former mine site.
5pm – Dinner. Choose one of the area's many restaurants for a great meal.
7pm – Stargazing. Rusk County's rural nature means very few streetlights to spoil the night skies. Do some fall stargazing on your first night in Rusk County.
Day 2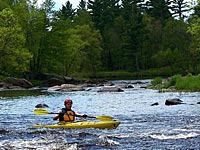 6am – Breakfast.
7am – Fall on the Flambeau. Take the 11-mile paddle from Ladysmith to the Thornapple Dam. It's an easy trip and one that gives you plenty of opportunities to appreciate the fall color. The whole trip should take the average paddler less than five hours.
1pm – Lunch.
2pm – Mountain Bike Ride. The Sisters Farm Trail in Ladysmith is set on the banks of the Flambeau River. Enjoy outstanding river views as you pedal this top-notch mountain biking trail system.
5pm – Dinner.
6pm – Evening Stroll. Savor the last hours of daylight with a walk along the Riverview Trail. The trail runs between Hwy 27 and County Road G in Ladysmith.
Day 3
7am – Breakfast.
8am – Hike the Blue Hills Trail System. This 20-mile trail system is the perfect way to experience the natural beauty of Rusk County's Blue Hills, an area famous for its wonderful fall color.
11am – Shopping. Take some time to visit Rusk County's interesting retailers, such as Gypsy Treasures, Winter Gifts & Gallery and Flambeau River Gift Shoppe. Be sure to stop for an ice cream cone at the Village Parlor. And don't miss Artisans Outlet in Glen Flora and Norte Antiques in Bruce.
1pm – Lunch and Head Home. See you again in Rusk County!
1.800.535.RUSK
Powered by