Museums & History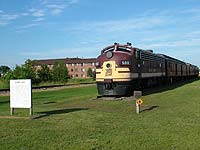 See the railroad displays in Ladysmith.
Rusk County is a great place to learn about the history of Wisconsin's Northwoods. Take some time to enjoy these museums and historic displays. Learn about the history of the loggers, railroad workers and settlers who shaped the communities and landscape you see today.
Bruce Historical Society Museum
East River Ave., Bruce
(715) 868-5475 or (715) 868-5771

Located in the old Bruce News Letter building. Displays include family history files, old census files, many old books and papers, artifacts donated and borrowed from local families. Open during the summer, Monday & Wednesday mornings, Friday afternoon
---
Railroad Displays-Ladysmith Area

Many of the communities in Rusk County were established during the heydays of timber and logging activities. Timber was harvesed and floated on the rivers to millls, or brought by railroads. Railroads were also responsible for shipping finished lumber out, as well as bringing business people and settlers to the area. Railroads were a very important part of the area, and continued to grow after logging and still have a presence today. Railroads evolved wih advances in technology, from steam to diesel, from passenger service to only freight. All communities in the County still have railroad tracks running through them. Travel around Ladysmith and you can see a number of railroad displays that show the changes in the railroad industry. These railroad displays are for external viewing only.
Old Smoky: Steam Engine- Westgate Plaza, Lake Ave./Hwy. 8, next to IGA in Ladysmith.

Soo Line Diesel 550R Engine, Post Office Express Car 552, Passenger Baggage Car 358, First Class Coach 998, Soo line Caboose: Located at the Rusk County Visitors Center on Hwy. 27, 2 blocks south of Hwy. 8.
Caboose - A restored caboose located near the Rusk County Community Library on Corbett Ave.
---
Rusk County Historical Society-Ladysmith
Rusk County Fairgrounds, Hwy. 8 East in Ladysmith
(715) 532-3633 - Website

Wide variety of displays include logging history, antique farm machinery, rail history, WWI & II artifacts, antiques, medical exhibits, Little Red Schoolhouse and Log Cabin. Located at the Rusk County Fairgrounds in Ladysmith. Open Memorial Day -Labor Day and by appointment
---
Servite Center for Life
Ladysmith - Website
---
1.800.535.RUSK
Powered by